Our Story
How we became the team you see today.
Here at Vector Health, we have a wide variety of clinicians that can assist in your journey! Ranging from Physiotherapists, Exercise Physiologists, Exercise Science, and Strength and Conditioning coaches, we can take them through every stage of recovery or to achieve their fitness goals.

As a team, we stand by our core values: to be non-judgemental, have a positive attitude, that results matter, and always strive for excellence. These values allow us to all be on the same page with clients and to be in sync when working within the clinic.

As a service, we can provide exceptional care and 1-1 support for whichever service you come to us for and treat your symptoms. From muscle soreness and stiffness, women's and men's health, osteoporosis, injuries, cancer rehab, diabetes, NDIS, work cover, senior classes, junior classes, general fitness, or achieving a gold medal in the Olympics!
Mission: "No matter how we grow, we will deliver transformations of self-belief and physical capacity with unrivaled care."
Our Values
Non-Judgemental
We care about you as a whole person first.
It does not matter where you start from; we look at where you are going.
Positive Attitude
Smiling can change everything.
We believe in you.
Excellence
Never stop learning and growing.
To perform at your best, you have to expect the best.
Results-Matter
If we are positive, non-judgemental and apply excellence in everything we do, then results happen.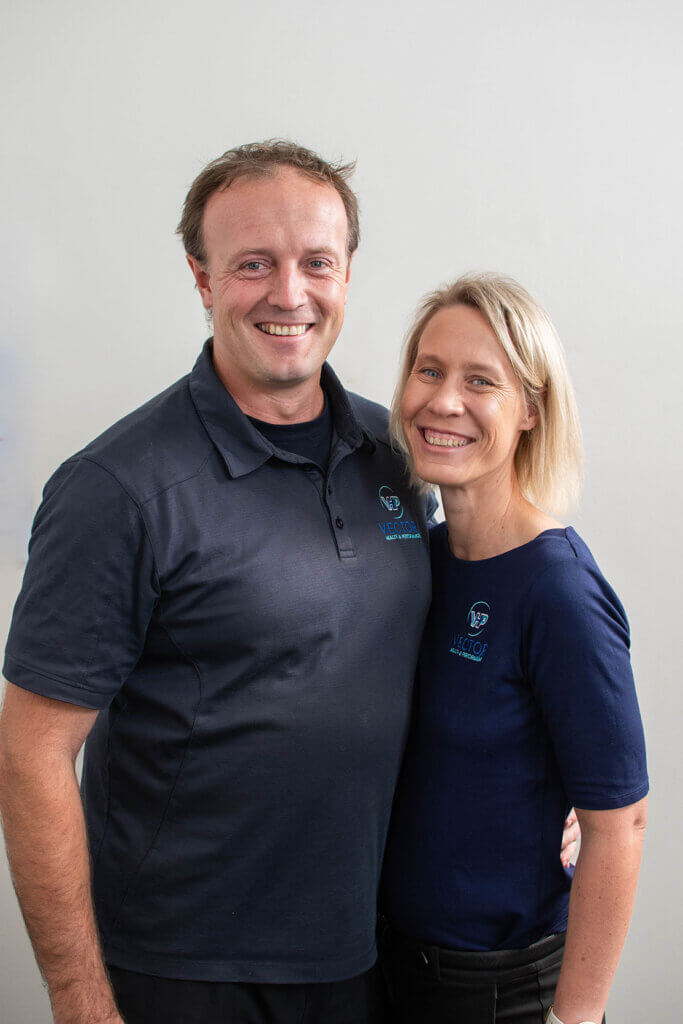 How do I respond to the question of what do I do?
I am the founder and Managing Director of Vector Health in Rockhampton, Central Queensland. We transform people's physical capacity and self-belief, delivering unrivaled care to our clients in the most exclusive Physiotherapy-led health, fitness, and performance facility in Central Queensland.
We emphasise treating everyone as an individual, whilst providing a family-friendly environment. Our team is comprised of Physiotherapists, Exercise Physiology and Science Professionals, Personal Trainers and Strength and Conditioning Coaches.
Why come to Vector Health?
Exclusive Care where you are the most important person in the room.
You want results delivered with Care, compassion and understanding
You want to exercise in an environment where your privacy is protected and valued
What do I need to be prepared for?
To be open and honest about your goals, barriers and injuries so we can best help you
To be prepared to work on the "little" things in order to achieve the big things
How do we select our team members?
This is best summarised by the following quote from Glenn Hansen, Founder, and Director of Coaching: 
"Vector Health employs people and turns them into great leaders, allied health professionals, coaches, trainers, reception, marketing, and support people. We look at your fit into our team, and our team and business' fit to you. Our recruitment process is about getting to know and understand you first before worrying about whether you are good at what you do. We apply the same values to our team members as our clients." 
"The most selfish thing you can do in life is to help someone else" Denzell Washington.
Do we have a "system?"
We look at the person in front of us every time. This means there are no cookie-cutter approaches to anything we do. We specialise in individualised programming from acute rehabilitation to athlete management.
Year Established: 2010
Vector Health is founded upon caring. Our passion is for transforming people both physically and mentally. This is true whether it is a team member or one of our customers.
Some of our Notable Achievements:
Australian Rowing Team used our facility for a training camp in 2019 and the 2021 Tokyo Olympic Preparation. 

Odell Manuel – Big Dogs Powerlifting Competition Winner with a total of 1105kg October 2019. Greatest all-time Australian Powerlifting Total.

Samantha Thomasson – Bench Press world record (x3) of 88kg at 62kg bodyweight. Bronze medal at World Powerlifting Championships 2016.

Jacob Spark – Australian Champion Surf Life-saving

Rockhampton Grammar School – Confraternity Shield (Rugby League) winners 2017.

The Cathedral College – Confraternity Shield runners up 2019

Sheridan Spark – Australian representative at Junior World Cycling Championships 6th and 10th place.

Michael Ingram – featured on ABC National News in his rehabilitation journey to walk again 2018.

Capricorn Claws – Netball – Preliminary Finalists in State League Netball competition 3 times from 2011 to 2016.

Chleo Van Wyk – National Powerlifting Champion

Zach Shanks – National Powerlifting record holder 2013-14, Squat and Bench Press and Total for U105 Youth.

Jed Spear – Bronze Medal at 2018 World Trampoline Championships and 20-year Australian representative career.

Shelby Davis-Hill – Australian Special Olympics Team Member – Silver Medallist Equestrian 2019

Joshua Holloway – Tennis – Australian Representative World Deaf Games Medallist