Junior Athletic Development – Christmas and New Years sessions
Posted on October 21st, 2019
Junior Athletic Development – Christmas and New Years sessions

Just $66 per week for three sessions!!
These sessions are the perfect program for children and teen athletes to keep active and learn a thing or two over the Christmas School Holidays!
These will be run by Rach, one of our Performance Coaches, who will be teaching exercises and working on techniques in strength, mobility, speed, agility and improve aerobic fitness. Over the week, we will cover education & learn why juniors need to get strong and the importance of training – applying it back to their respective sport so they understand why we do what we do in the gym. It will highlight injury prevention, mobility & stability exercises, basic movement patterns, understanding different movement planes, improving aerobic fitness, speed & change of direction and how to train to the best of your ability.
Details
Ages: 9 – 15 years old
Week 1 December 9th, 11th, 13th
Week 2 November 6th, 8th, 10th
Book both sessions and receive 10% off.
Time: 10 – 12pm

Come and join us for our Christmas and New Years Sessions!
ENROL HERE:
https://vectorhealth.accelerware.com/enrolForm.cfm?form_id=14791&enroluid=&searchKeyword=&go=Continue
For more information contact us on
Ph: 49278190
reception@vectorhealth.com.au
www.vectorhealth.com.au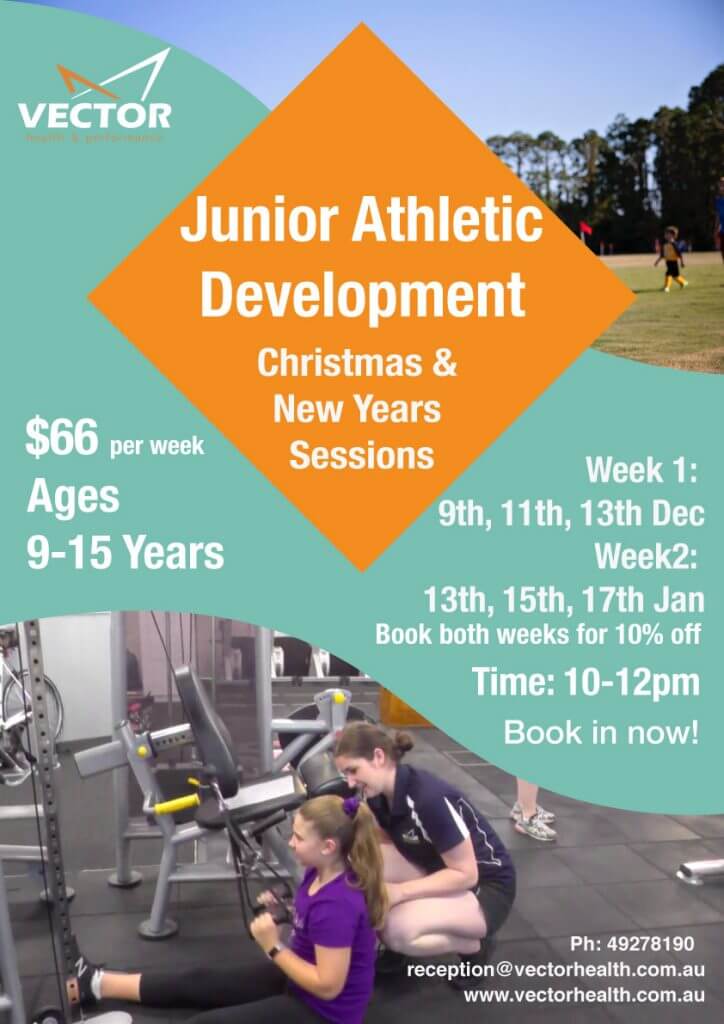 Other stories