Laura Justin
"
When working with people there is no one size fits all treatment – I encourage everyone to take ownership of their rehab and work with them to find strategies and goals that are personalised and meaningful and they find enjoyable.
"

I am passionate about providing continuous care across all stages of a person's health and fitness journey, meaning we don't just stop when one goal is achieved or one issue is resolved, but work together to set and achieve ongoing goals that help people I work with to be the best they can be in all aspects of their lives.
Helping people to set and achieve their personal goals, no matter how small, is a rewarding way of measuring success and progress. I love seeing people celebrating little improvements and being proud of themselves, even if it's just for taking the first step!
Throughout the completion of my Bachelor of Physiotherapy studies at James Cook University in Townsville, I developed skills in a diverse range of environments with people of all ages – with an emphasis on rural, remote and indigenous health.  I had a rare student opportunity to work alongside Women's Health Physiotherapists, which gave me a unique knowledge and interest in this area.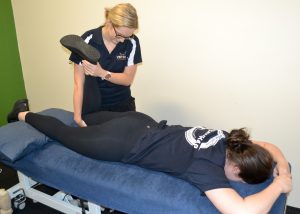 I pride myself on providing great care through making sure clients feel truly listened to, and looking at the person as a whole and not just one injury or issue. Empowering people to take responsibility and pride in their own health journey is very important to me, and helping them not just recover from pain or injury but provide ongoing care and guidance to help them set goals to get the most out of life. 
Laura Justin – Physiotherapist